The Deluxe/Sport Jungle 4x4 Bull Bar, designed for Toyota Landcruiser 79 Series+, offers the following impressive features:
Full Bumper Replacement (No Bumper Cuts Required)
AIRBAG Compatible and ADR Approved
Reinforced 63.5mm Tubing included

 with Full Loop Deluxe Bull Bar

Powder Coated Finish
Winch Compatible
Dual Aerial Mounts
Pre-Drilled Holes For Driving Lights
Reinforced Recovery Jack Mounts
Parking Sensor Compatible
Designed for Optimal Approach Angle
Integrated Fog Lamps and Indicators
Note: This Bullbar will Suit Dual Cab 79 Series and single cab up to 2016 pre DPF models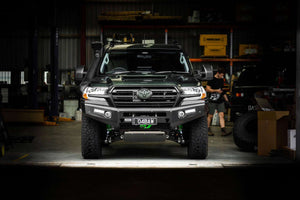 Toyota Landcruiser 79 Series Bullbar
Jungle 4x4 bull bars are the ultimate accessory for your 4x4.
Jungle 4x4 Bull bars
Jungle 4x4 Bull Bars are designed to provide maximum protection for your vehicle on rural or off-road travel.
As well as protecting against animal collisions and debris, they offer a solid base to mount your accessories: winches, lights and antennas.
And, we may be biased, but they look pretty nifty too, right?
Top-quality Australian engineering
Designed by Australians, for Australians. We factor in everything from approach angles to crush rate, so you can be sure your bull bar is built to last.
Airbag compatible
Our rigorous crash barrier tests confirm their performance and compatibility with your vehicle's airbag.
Sleek and stylish finish
They are made to protect you and your vehicle, but who said they couldn't look good too?
Features
✔ (Deluxe Full Loop only) Reinforced 63.5mm Tubing
✔ Full Bumper Replacement (No Bumper Cuts Required, Unless Specified)
✔ AIRBAG Compatible and ADR Approved
✔ Powder Coated Finish
✔ Winch Compatible
✔ Dual Aerial Mounts
✔ Pre-Drilled Holes For Driving Lights
✔ Reinforced Recovery Jack Mounts
✔ Parking Sensor Compatible
✔ Designed for Optimal Approach Angle
✔ Integrated Fog Lamps and Indicators